Work
Glasgow, Scotland
Connecting Nurses to Healthy Employment
Overseas Nurses Network (ONN)
September 2, 2010
Connecting international health workers to professional and social networks helps unions boost recruitment and retain a healthy workforce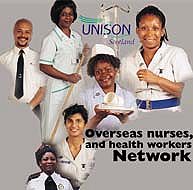 Like many of the best ideas, the Overseas Nurses Network (ONN)  was the result of a friendly chat over a cup of tea.
Sofi Taylor and Sheila McGeoch, both nurses, were discussing what they could do to promote their union UNISON and in turn, what their union could do to support migrant health workers working in public services.
The Overseas Nurses Network (ONN) was the solution.
The simple good idea at the core of this network, is that connecting migrant health workers to their union counterparts for social, professional and moral support can help prevent employer exploitation and eventually, encourage migrant health workers to become involved in campaigns for collective action.
Engaging new workers
ONN founders, Taylor and McGeoch, attributed the low levels of union membership among migrant health workers to cultural differences.  For instance, in many of the workers countries of origin, union participation is often considered dangerous.  As well, the traditional model of trade union meetings (with formal rules and proceedings) was also identified as a potential barrier.
"We're dealing with people who may not have previously had the experience of trade unions… as well trade unions may be associated with politics, which is not very good in some of the countries that they come from. Calling it a "family" and "network" has overcome that. Our Chinese nurses call us the 'association' because it's easier to go back and contact their families and say they belong to an "association."  explains Sofi Taylor, co-founder of ONN and member of UNISON's National Executive Committee (NEC).
Technically the ONN is not a union but a network of workers who may be unionized. Although the ONN receives funding from UNISON and has UNISON members, the ONN retains a degree of autonomy about how it conducts its events and organizes itself.
This means that the ONN can operate with an informal structure and minimal hierarchy in order to create an ambience that is attractive to union-shy members or individuals less accustomed to formal meeting procedures.
Professional opportunities as social spaces
While union membership may be the ultimate objective, the ONN also provides its members with helpful information, networking and social opportunities. Meetings are held three times a year, and include plenty of hot food for dinner and same-day cash reimbursement for travel expenses.
ONN meetings provide members with the chance to expand their social networks beyond their immediate workplace and their ethnic, national or faith community, and likewise spread knowledge across these networks.
"Watching this big Masai lady, who must have been six feet tall, hugging this four foot Filipino lady… That is the whole concept of community integration and breaking it down. We know that people stick within the community that they know and they stick within their workplace. This way we have crossed the two." says Taylor.
Being part of the network has also provided for opportunities to be active in members' communities. In the summer of 2008, the ONN with UNISON, Scottish Trades Union Council (STUC) and Migrants' Rights Network (MRN) held a meeting in the Scottish Parliament about migrant workers in Scotland. Thirty-seven members of the ONN came along to relate to Members of Scottish Parliament (MSPs) how their stories are unique from other workers – the difficulties in obtaining and reapplying for visas, racism and discrimination in the workplace, not having their skills recognized by employers, and starting their lives over in a foreign country. They wanted to make sure that politicians understood that while being migrants, they deserve equal employment rights and conditions.
Success
The ONN has been a success in its approach in addressing the needs of migrant workers. The meetings they started provided an alternative to more formal union meetings, incorporating what migrants wanted – a space for supportive social and professional networking that serves as an introduction to the union. After seven years of operation, the network has grown to 700 members in Scotland and beyond.
Making it Work for You:
Being flexible in terminology and structures within your organization is key for greater inclusiveness. By adapting concepts and terminology in describing organizations, potential cultural barriers can be anticipated and overcome.
Everyone likes that little bit extra: After a long day's work, the promise of a hot meal and same-day travel reimbursement may be the deciding factor to whether someone makes the effort to join in.
Are your organization's meetings becoming too routine? Consider the value of bringing in an external speaker to talk to reinvigorate group thinking or add some inspiration to future projects.